Town of Darien - Sumner Road Water District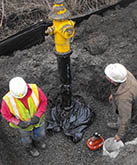 Residents and a proposed campground located adjacent to Darien Lake Theme Park Resort (formerly Six Flags Darien Lake) had little to no quantity of well water which also was of poor quality. Mountain Engineering coordinated the efforts to extend public water to this area of the Town of Darien. The cost of the project was $265,000. Services provided for this project were preliminary design, water district formation, design, permitting, funding and construction administration.
village of oakfield - innovative sludge treatment project
The Village of Oakfield was spending over $50,000 annually on their sludge handling and disposal at the Wastewater Treatment Facility. Mountain Engineering proposed a "green" alternative and innovative solution to their needs and helped secure funding for a new Reed Bed Sludge Treatment System. The funding secured was from the first round of the Green Innovative Grant Program. 90% of the project was funded by a grant with only $10,000 of local money required. The project was a huge success and is currently saving the Village $46,500 annually from their previous system. Mountain Engineering provided grant application and administration, design, permitting, bidding, construction administration andinspection services.
To read the news article on this project click here.
genesee valley transportation company - transloading facility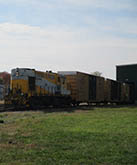 Genesee Valley Transportation Company (GVTC) constructed a 22,000 square foot Transloading Facility in the City of Batavia (Click here to read more). The project was funded in part by the New York State Department of Transportation. The cost of the facility was $2,000,000. Mountain Engineering provided design, permitting, bidding, construction administration and inspection services.
Unique Design Requirements:
* Limited Site Space
* Bounded by the Tonawanda Creek
* Flood Plain
* 3,600 gpm Fire Suppression requirement
* Product storage height requirement

town of stafford - emery park multi use building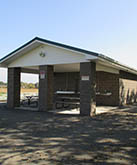 The Town of Stafford constructed a new 2,200 square foot multi use building in its newly expanded Emery Park. The building consisted of a concession stand with covered picnic area, restrooms and storage facilities. Mountain Engineering provided planning, building and site design services including structural, HVAC, plumbing and electrical.
horseshoe lake corporation - horseshoe lake improvements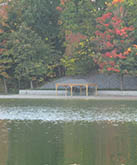 The Horseshoe Lake Corporation undertook a capital project to improve water quality and recreational activities. Mountain Engineering provided planning, design, permitting, bidding, construction administration and inspection services.
The Improvements Included:
* North East cove and general lake dredging
* Beach improvements including a new retaining wall, new sand beach, drainage improvements and a new pavilion
* Construction of a new boat launch
* Watershed drainage improvements

united states gypsum company - reservoir dam - operation and maintenance plan and emergency action plan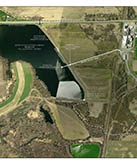 In July of 2009, the New York State Department of Environmental Conservation enacted new Dam Safety Regulations. The United States Gypsum Company (USG) retained Mountain Engineering to assist them in complying with the new regulations. Mountain Engineering developed an operation and maintenance plan for USG's 120 million gallon reservoir dam. This document provides USG with a long term operation, monitoring, inspection, maintenance, notification procedures and staff training plan.
In addition, Mountain Engineering developed an Emergency Action Plan for USG in the event of a dam failure. This plan was developed in coordination with the Towns of Alabama and Oakfield, Village of Oakfield and the Genesee County Emergency Management Office.
darien lake performing arts center - public water supply
Darien Lake Theme Park and Resort (Formerly Six Flags Darien Lake) contracted with Mountain Engineering to investigate public water supply alternatives for its Performing Arts Center. The solution implemented was a 1,100 foot water main expansion from the Monroe County Water Authority's water system. Design of the system included a master meter, pressure reducing valve and a backflow prevention building.